Need to catch up? Here's where we
were
on my last post about updating our basement. We had a nice large walk-out basement that was badly partially finished. The layout wasn't working at all and we weren't taking advantage of the space's full potential. On our wishlist: bigger family/play space, home office, powder room, more storage and a snack center.
The giant dumpster(the ladder was too hard to resist!)
So began the demo...I don't have any demo pics but this is after the demo and as the framing was going up. We removed a half wall next to the staircase to open it up and not feel so tunnel-like as we came downstairs. By "we" I mean our contractor. Through the doorway here was the future office (what used to be two big storage closets).
This wasn't a typical basement refinish, we had to completely demo and start over.
Now we had dry wall! The columns still needed to be dealt with. This view is from the previous two offices looking into the previous unfinished area (that had French doors?!)
In the far left corner is the new powder room (it had an existing window).
And this is the view from the opposite side of the room (looking from the new powder room back to the old office...the other window)
The new office with the drywall up(and working lights). It was a good thing we completely demo'd because the wiring and phone system were a hot mess-DIY'ing at its worst!
Now the columns were boxed in and you can see the new closet over to the far right next to the French doors.
Here's a close up of the powder room.
Everything all drywalled, taped and joint compounded(?).
The office got it's own new French door.
We also found out that the old double French doors were warped and in bad shape so we had to replace them (surprise!). The molding went up around the columns and the base boards were installed also.
Here's another view, the door to the left of the powder room goes into the new unfinished space-for storage and utilities. A few of the doors were hung.
We were on the home stretch now!!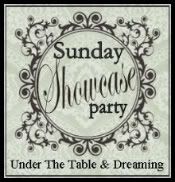 Pin It