Mom's garage-before. It looks pretty organized to me!
Doesn't it?
But she wanted a makeover and that's what she got.
First the floors got a makeover.
Floor-BEFORE
and AFTER
They put an epoxy down and then sprinkled her choice of colored pebbles down all over it. Once it dried, they removed the loose pebbles and sealed it.
A close up..so pretty!
The cabinets going in.
Lots and lots of organization!
More organization on the wall!
Spicy RED doors!
ooh la la!
(I'm moving in!)
Here are some side by side comparisons.
She's definitely inspired me to get my garage more organized. How's your garage looking? Do you have a garage, backyard shed or outside storage space, if not..what do you do with all your 'outside' stuff?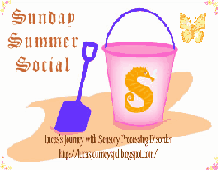 Pin It