1)Self Tanner
I'm normally as pale as can be but I like a little 'safe' color in the summer. This L'Oreal Sublime Bronze tinted self tanning lotion is giving me a warm glow and even a little shimmer.
2)Garlic Infused Olive Oil
Yum!! I bought this for a recipe that I haven't tried yet but we're using it for everything from roasting and sauteing vegetables to bread dipping oil.
3)
Montreal!!
Our trip
this month was definitely a highlight of our month (and year!)

4)Jillian Michael's 30 Day Shred
OK, love might be too strong a word for this one but respect might be more like it. I'm on my second round of this workout series and it seriously kicks my butt. I seem to have less time to work out in the summer and these workouts are quick and to the point but CHALLENGING!
5)True Blood
Sooo good this season!
6)Lazy Days
Time to try some things from my summer to-do list....
Like teaching my kids a new card game.
or learning to crochet.
7)
The Christmas Tree Shoppe
My impromptu shopping trip
here
was so much fun!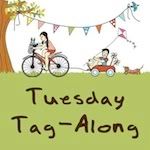 Pin It