On our last visit to this
fun place
we found some great items.
I thought this vintage tin box and camera would look great in my older daughter's
new room
. If not, I'd find a place for them!
I have a strange weakness for letter blocks and the pictures on these stacking blocks just sealed the $3.00 deal!
I've started collecting decanters for my dining room buffet and I love the topper on this one.
Even my youngest got in on the collecting action. She spied these miniature ceramic houses and was intrigued by their detailed exteriors. For about $20 she started a new collection and also got a display case for them or whatever she decides to use it for.
The houses had the words Wade England stamped on the bottom and we looked them up on "the internets" when we got home. They are from the Wade Whimsey on Why Collection that were produced by the Wade Pottery Company of England and Ireland in the 1980's and 1990's. This looks like a fun and fairly inexpensive collectible for her. She's hooked!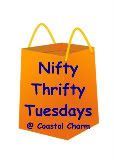 Pin It