Way back in June I gave you this little
teaser
about an upcoming project. Some people thought we were were working on sugar cube igloos.
We were actually making alphabet blocks. I love the Ballard Design letter balls but 1)I don't think they are still available (I can't even find a photo)and B)they were very pricey and 3) I personally like alphabet blocks for writing out little messages or sentiments (plus they don't roll around).
I found the wooden cubes at the craft store and gave them a few coats of white craft paint. The steady-handed teen painted letters onto them.
Ok..this is where we come to a grinding HALT!
They were quite time consuming...she ran out of free time...there the project sat and sat...
and sat...
Until...I rescued them and threw them in a bowl.
I'm vowing to finish them up with a Sharpie (I don't know where she gets her artistic talent but it's not from me!)
See how much fun they are!
And since I don't have much holiday decorating done yet...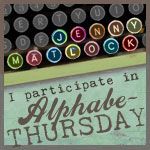 Pin It