Last year we hosted a gingerbread house party for my daughter and her friends. We cheated a little and pre-made the houses out of graham crackers (much easier than gingerbread!)
The party happened to fall on Baby Nick's birthday so of course she made him a birthday hat and he had on his cozy sweater. She's pointing out her Christmas tree earrings.
The girls cut paper snowflakes when they first arrived.
The table all set and ready for them to decorate the houses. I gave them each their own bowl of royal icing and a plastic knife. We had all kinds of candy, mini marshmallows and gingerbread people.
They got very creative!
After serving lunch we had a hot chocolate bar.
We also did a pollyanna gift exchange. This was a really fun and easy party!
Can we do it again this year Mom?
Linking up with: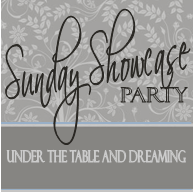 Pin It