Here's what I scored for the whopping total of about $34 recently at my local thrift store. First off, are these awesome candlesticks. I hesitated but my friend Betsy convinced me that they'd look great on a our piano. I"m so glad she did! (Thanks Betsy!)They were my 'big' purchase at $12/each They really came in handy (more on that later).
Then I found these assorted items:
First off the "C" block is for my little collection of mismatched alphabet blocks that I started this Christmas and the letter "C" is associated with a family name so I also liked that and at .25, it was a steal!
The white vase, well you can see how great it looked with some leftover roses from
this party
that had to be cut down anyway. Sah-weet!! The glass cheese tray cover caught my eye too. I didn't know what I would do with it but I liked it.
I also found this Pfaltzgraff soup tureen set:
I thought it would be perfect for my buffet in the dining room and had a classic look to it that would pretty much go with anything.
Well I am happy to say that I've been using everything. The vase that held the roses, then held some cut down fuji mums from the same party. Now it's holding some little bunnies on the hearth.
The block looked great with my green St. Patty's day decor earlier in the month and it's still sitting on my sofa console now with the Easter decorations.
The candlesticks DO look great on my piano and when we had a power outtage a few weeks ago and filled just one of those puppies up with taper candles, boy did they give off a lot of light! I haven't found the perfect candles to keep in them permanently but I'm looking for a mid-height white taper. Here, they are being put to good use during the storm by my daughter. She entertained us with some tunes. It was lovely!
The soup tureen and glass cover are both on my buffet in the dining room. The glass cover sits on a stack of plates and usually I keep some artificial pears under there but right now there are Easter eggs sitting under it.
In the second picture you can see the
bunny hutch we featured earlier.
So what do you think
?
Did I do ok at the thrift store?
ps. I went there again this week but wasn't as lucky. I'll post about that on a later date.
-heather
Linking up with Garage Sale'n @ http://debbie-debbiedoos.blogspot.com/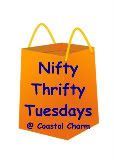 Pin It