I
love my scrapbooks but I when I wanted to look up a photo I'd have to look through all of them to find it. Can you say frustrating?
Creative Memories sells these nifty album charms at $10 a pop, I wanted to try a DIY (and cheaper) version of the charms.
This is how my albums looked.
Well I put my thinking cap on and hit ye old craft store for some supplies. You'll need:
lanyard hooks
picture charms
and a print out of your dates
First pop out the little plastic cover on the charms. Use this as your template to cut out your album information. Then pop it into the charm and put the plastic cover back on.
Here's the back of the charm.
Next, attach the lanyard hook and you're done.
Viola, the finished product! So much easier to find what I'm looking for (and about $1/piece!)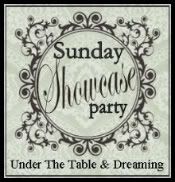 Pin It