So this is my happy ending to my stained kitchen stool saga.
I don't have a miracle cleaner so I decided to re-cover them.
To catch up from
yesterday's post
, I had tried a Pinterest idea to clean my stained microfiber kitchen stools.
It didn't work and I couldn't get the stains out, no matter what I tried.
I wanted a darker fabric anyway so I finally picked out some fabric and decided to cover them.
It has 'only' taken me two years or so to find a fabric that I like.
Mr. Click was around to help me and removed the base of the chairs so we could get to the cushions.
Once the base came off, it was easy to remove the cushions.
I bought two yards of fabric at Hobby Lobby for about $12. Here I was laying out the cushion on the fabric to see how it looked. I loved it so we proceeded with the new covers.
I cut a piece slightly larger than the cushion and we stapled the fabric to the cushion, pulling tightly as we went.
We used a screwdriver to poke holes in the fabric to line up the holes in the the base with the holes on the cushions. I trimmed away any excess fabric.
Then attached the base to the newly covered cushions!
Yay!
Before and After!
This was a really quick project. I love when something comes together so quickly and easily.
It was also inexpensive, I could have gotten away with less fabric but now I have some left over for a a future project. The fabric is nice and thick and it has been holding up really well so far.
It might not be the ending you expected but it's a happy one none the less.
Linking up with: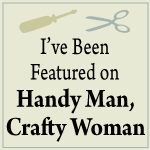 Catch A Glimpse
Thursday Favorite Things
Tuesday To-Do
Pin It